Could you introduce yourself?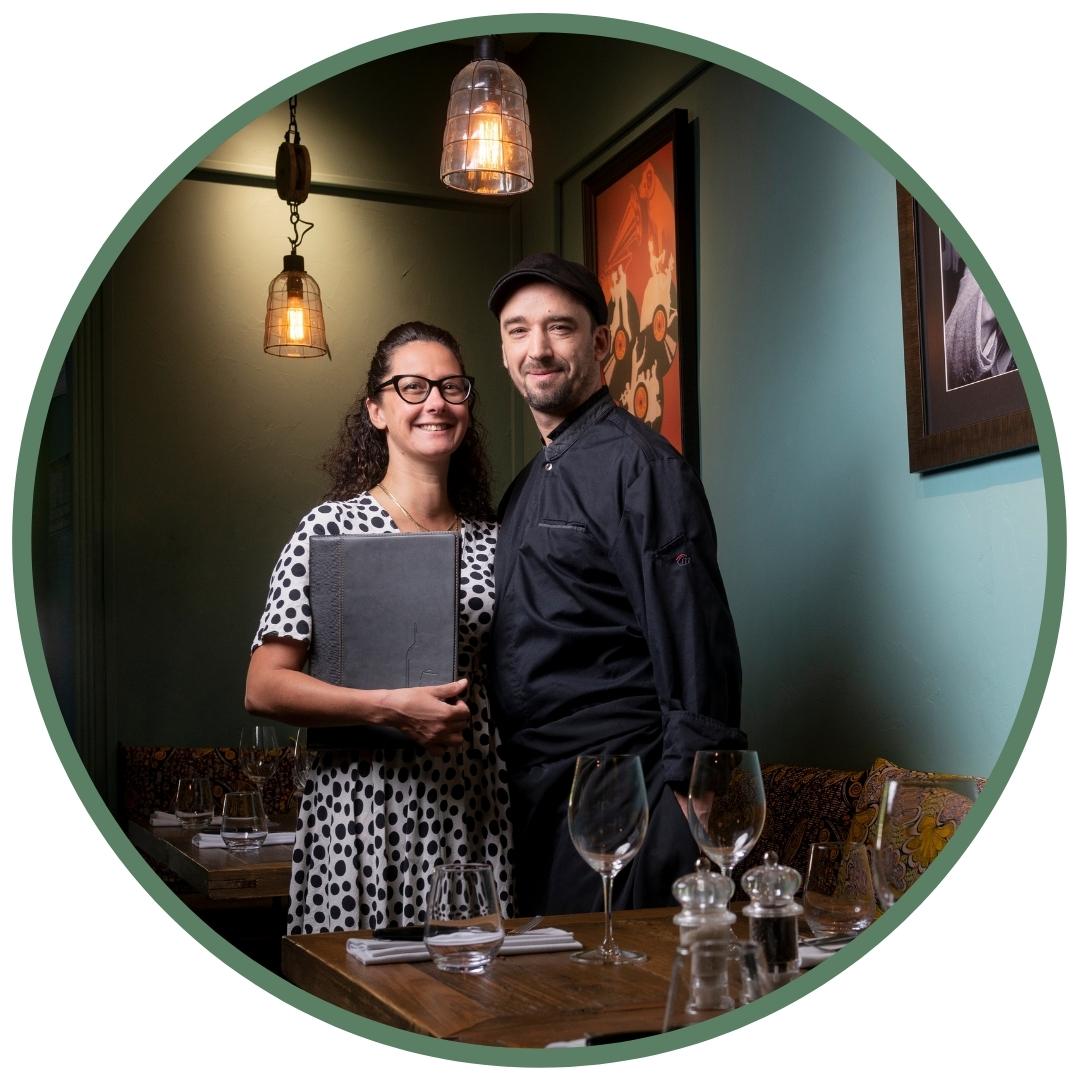 My name is Gilles Nardy, I'm 40 years old.
I started at 15, as a pre-apprentice in the bakery. After that I did a classic apprenticeship; I had the Compagnons du Tour de France in mind, but that didn't work out, and I found my way in the bakery, for 10 years. I worked many seasons, and at the same time did a lot of travelling in France, on my own. At a certain moment, as the seasons went by, I worked as a pizza baker. That's how I got, a bit by chance, into the restaurant business, although I didn't think I'd become a chef at all: I hate the military atmosphere of big restaurants. In the bakery, we supplied a star-rated restaurant which gave me a rather negative view of the profession, at least from my point of view. One thing led to another and I was able to travel more and more freely. I learned to make pizza dough by hand, in a wood-fired oven, using the Neapolitan method: my dream! I met my wife, and we opened our first restaurant in Nantes in 2009. We opened a café-concert restaurant with a basement that hosted live musicians until 4am. On the ground floor was an Italian restaurant, with fresh, home-made products. 80 covers inside, 2 or even 3 services, in a brasserie-like atmosphere. It worked for 10 years. My aim was to get closer to fresh produce, so, one day, we decided to sell the restaurant in Nantes and set off on an adventure.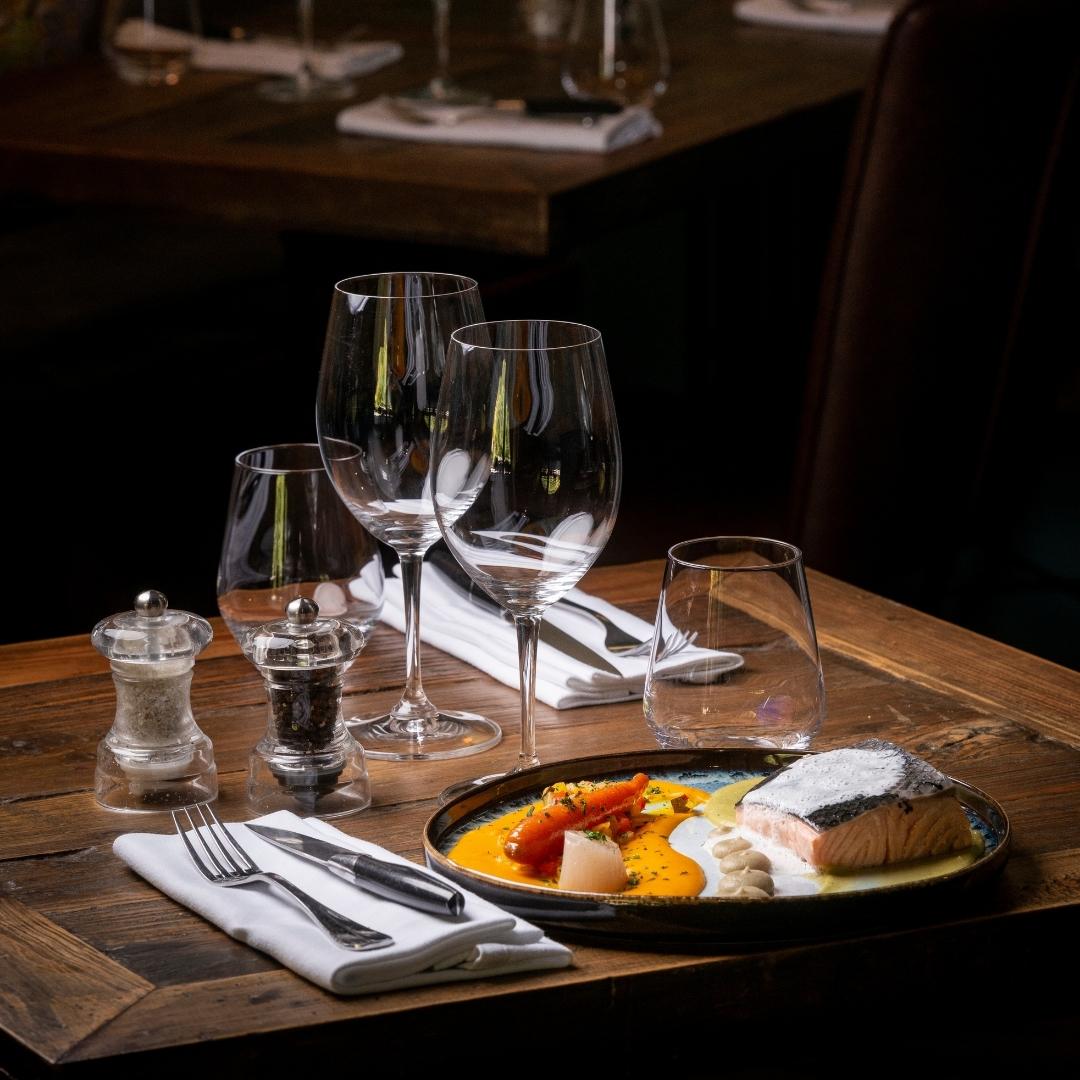 Monflanquin: why did you choose to move to this village in the Lot-et-Garonne?
We didn't know Monflanquin at all, let alone the Lot-et-Garonne. When we sold our restaurant, I converted an old Mercedes van into a campervan to travel through Europe for a year. We had an accident in Italy, which damaged the vehicle badly, and we found ourselves with a lot of repairs on the van. So we decided to settle down somewhere. We were already planning to settle in the South-West of France: I really like the atmosphere, the good products, the local identity, and culture; there is a real sense of welcome. We started in the Périgord, in February. In our opinion, that is a very good time, to get an idea of the local life during the whole year round. We didn't want to settle in a village that was only alive in the summer. We visited almost all the villages in the Dordogne, and then we ended up at the Tourist Office in Villeréal. There was a possible business in Gavaudun, and on the way we decided to make a stop in Monflanquin. When we arrived at the square, we loved the village, the square, the arcades! My childhood dream was to live in a medieval village, situated on a hill. This was exactly what I had dreamed of! We talked to an estate agent, Max, but at that time there were no suitable properties available for us. We were looking to buy, and not to rent. Finally, Max contacted us again: there was a property to be refurbished and to be brought up to very precise hygiene standards. We visited the property, which was too big for us at first sight but which had everything we needed: a terrace with a view, under the arcades, in the middle of the village. Exactly what we loved! There was no existing business or goodwill to buy, so we could start with new equipment and clean premises: I didn't want to do it in a 'do-it-yourself' style and good equipment is functional and pleasant to work with. Monflanquin was pure luck, a great opportunity that we took!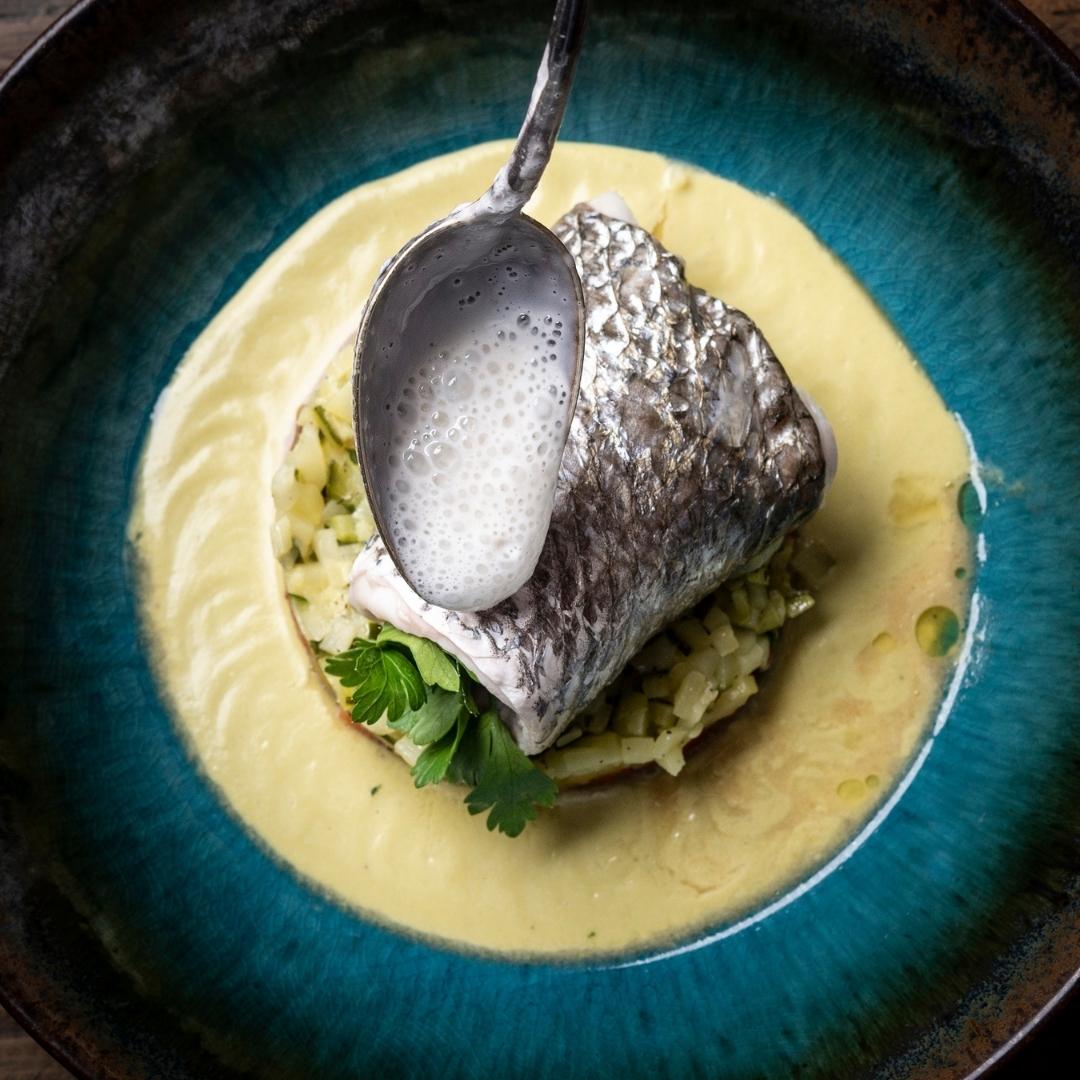 What are your specialties, your characteristic dishes (if you have any)?
We really like to work with veal. We try to work as much as possible with local products, so there are products that inevitably come back every now and then. We are in a region where livestock is raised, but also where prunes and hazelnuts are produced. We work with the Noisettes de la Bastide (Monflanquin), with their own harvest, for example for the veal steak in hazelnut crust. We also work with the Gascon pig, the black pig, marbled to perfection, it's a sensational product!
We like to change the menu regularly, so we don't have a characteristic dish, but certain products come back all the same. And we also depend on our farmers! We work in harmony with the seasons, so we take, for example, advantage of the plum season; and we have friends who lend us their drying oven to prepare our dried tomatoes!
To what do you pay attention when you choose your products?
I always favour local products, and I also like to go and meet the farmer. We spend a lot of time researching and contacting our suppliers. I want to know how the product is made, how the animals are raised. There is also the human, emotional relationship with the people we work with. It's important for us to know that our farmers enjoy their work. We are actors in the change that is taking place today, particularly in terms of ecology.
Our role is also to make people aware of eating locally.
We have a duty to set an example in this respect, and actually we have everything we need here in the Lot-et-Garonne!
There are beautiful products of great quality, and there are even rare products (saffron, lemon caviar, etc.). We can offer something that corresponds to the values we want to promote.
The Lot-et-Garonne is a region of paradoxes: it was a pioneer in organic farming but we also have large cereal producers who use pesticides to be able to supply large volumes.
We adapt to the product, not the other way round!
We ask ourselves how to combine various products, instead of applying ready-made ideas.
Are there any products that you particularly enjoy cooking and eating?
We discovered the

saffron

from Récoltes de Montillet in Lusignan. They are a really nice young couple who also work with vegetables. They have just been certified organic, so that is even better.

We also met a beekeepers couple, Une abeille à l'Orée du Bois. They are itinerant and take their hives to people's homes. They produce very pure

honey

: no added sugar, no cheating. It is a raw product, rich in flavour. They often install the hives in Paulhiac, to make

'miel de miellat'

, which resembles

chestnut tree honey

. They are the only ones who, to my knowledge, produce

buckwheat honey

that resembles salted butter toffee. Having tasted many different honeys, I have rarely found a quality equivalent to their products! It is a great pleasure and pride to work with them.

We also like

black pig

Alexia's, from the Capy family in Dolmeyrac. Free-range pigs. We are the only restaurant they work with. They are unique.

We have a great, emotional relationship with the Locatellis, in Penne d'Agenais. They produce

veal

and make

bread, flour

, all if it organic... They are very open, have great respect for the animal and the product. It's always a pleasure to buy products from people like them!

We also like to work with Les Baies d'Elie in Sérignac-sur-Garonne for their organic

aromatic herbs

, which have a great taste and smell! They also produce vegetables, like asparagus.

Romain Fanals, from the Ferme des Fanalous in Saint-Sylvestre-sur-Lot, also grows a large part of our

vegetables

. He is the second generation of farmers on this farm.

It's been a great leap forward for us to have a producer who is so reliable

. Their

organic potatoes

are sensational!

To find this type of produce, with this quality and in sufficient quantities for a restaurant, is really fantastic.

As for fruit, we like Guy Marrec's (Clermont-Dessous), not necessarily organic, but their

strawberries

and

apples

are delicious. For

pears

and

raspberries

, we go to Verger de Jeanne (Monflanquin). Thanks to all these good products, we make our own ice cream!

We don't have any big names among our suppliers. The biggest is CBS in Villeneuve-sur-Lot for the

dairy

. The

butter

is supplied by Baecheler. The liquid cream comes from the Vendée because there is no closer supplier for sufficient volumes.

We also work with

raw milk, the Pozzer family's speciality, but in terms of volumes it's not always enough. We have chosen not to use processed products.
When you taste and smell these products, you know that something special is going on, there is an extra taste: the real thing!
Your recipes are both local and exotic: where do you find the inspiration?
I love working with peppers, they offer so many possibilities. The spice route has existed for thousands of years, spices have always been sold and transported: they keep well if you take care of them. Pepper gives colour to a dish, without being too dominant. It enhances the flavours without overshadowing them. There is an impressive diversity of peppers. We also like to travel a lot and we bring back our ideas that we then try to carry out with local products, by replacing an exotic fruit with a local product. For example, if we want to cook a chicken-curry pineapple: the pineapple will certainly not come from the Lot-et-Garonne region! But, we can replace it with, for example, apple and influence the acidic side with Sichuan berries (berries from China with floral and citrus notes - orange peel, bergamot). We try to recreate exotic emotions with local products and spices.
You have received several honours/awards for your work in recent years (Maître Restaurateur, Collège Culinaire de France in particular): can you tell us about the Collège Culinaire de France label?
The two labels defend the same values. Maître Restaurateur is a title, the only one awarded by the State, and there are specifications behind it. The Collège Culinaire de France is an association of restaurateurs and producers involved in a quality policy for home-made food. This is the essence of our restaurant, and we are very proud to be part of this network. It's crazy to think that a Ducasse looked at our CV and came to eat incognito at the restaurant! We could have been sponsored to join this association, but we don't like this type of initiative. First of all, I didn't have a classic career path, I was an autodidact, so I don't have too many contacts in the profession. It was important for us to see our work rewarded! We don't pretend to offer the service of a star-rated restaurant; in winter there are only two of us. We hope to be able to develop further in the years to come, but you have to put things in perspective. However, we want to offer home-made products from A to Z, from the little essence of herbs in the starter to the praline, and this is reflected in what we serve. It's also a great way to meet other producers, and it's an opportunity for future collaborations.
What are your passions?
I am a music lover. I am more of a listener than a music maker myself; I enjoy listening to music a lot. I really enjoy listening to hi-fi systems. I like to cook while listening to music. I have two speakers in the kitchen. We match the music to our moods, depending on whether we need to be concentrated or energetic during the cooking! I have a nice collection of records, I love the vinyl records. I like going to flea markets.
Do you have any particular project(s) for this year? or a scoop to reveal to us?
We have a project with Antoine Dominique, a photographer from Monflanquin, who has been winning awards for several years. We are lucky to have a photographer of this caliber in our village and, more generally, in the region,. We have an exhibition planned in the restaurant on some of the farmers we work with. We have been working on this for two years, being depended on our respective agendas. The best time to take photos (good weather in particular, so spring and summer) does not often coincide with the time when the farmers and the photographer are available! But it has now been completed, since the reopening of the restaurant (mid-March 2022) and it will be visible for our customers, until the end of August!
Discover Gilles and Estelle's restaurant:
L'Effet Maison
in Monflanquin
Photos : ©Antoine Dominique