Alphonse de Poitiers (1220 - 1271)
In 1249, on the death of Raymond VII, Alphonse de Poitiers, brother of St Louis, took possession of the County of Toulouse - as husband of Jeanne, Countess of Toulouse - as stipulated in the Treaty of Meaux. Alphonse de Poitiers, a wise administrator of the county of Toulouse, was to be the real promoter of the expansion of the bastides, until his death in 1271. His two main objectives were to affirm the Capetian authority in the South-West of France, whose limits had been revealed by the Cathar crisis, and to consolidate his hold on the county in the face of the Plantagenets who had been installed - as heirs to Eleanor of Aquitaine - in Bordeaux for a century.
Alphonse de Poitiers : http://bastidess.free.fr/ContexteHistoire.htm | Sceau ©Wikimedia
---
Edward the Black Prince (1330-1376)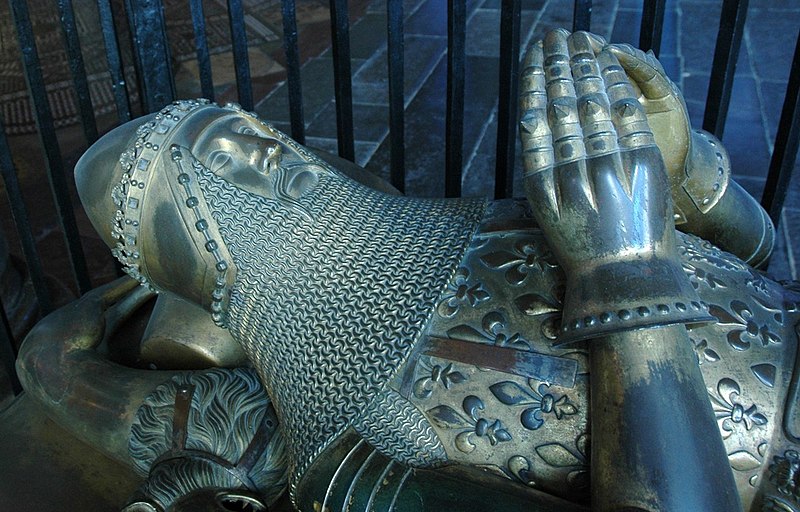 The eldest son of King Edward III of England, Edward of Woodstock is better known by the nickname 'The Black Prince'. It was given to him by an English chronicler a century after his death, probably because of the colour of his armour.
In 1355, at the age of 25, he was appointed lieutenant general in Aquitaine, an English province, and landed in Bordeaux with 6,000 to 11,000 soldiers to reconquer Gascony, south of the Garonne. It was between July 1363 and April 1364 that he went to Monflanquin, but this presence is only a hypothesis. Often described as implacable and brutal, he nonetheless conformed to the terrible "customs" in force in times of war: pillaging, destruction, devastation, fire! It was especially after William Shakespeare used the nickname 'The Black Prince' in 1599 that it became popular in history books.
Edward of Woodstock : https://www.herodote.net/Le_Prince_Noir_-synthese-1804.php | Tombe du Prince Noir ©Wikimedia
---
Ludomir Combes (1824, Fumel -1892, Monflanquin)
Ludomir Combes was a pharmacist by profession, but a geologist, paleontologist, mineralogist and archaeologist by passion. He set up the first stratigraphy of the Agenais region, in order to reconstruct the history of the local earth's crust and to better anticipate its potential movements. He is considered the pioneer of prehistoric and palaeontological research in Lot-et-Garonne. At the end of his life, he bequeathed a collection of 6,000 paleontological elements and prehistoric objects to the town of Agen.
Ludomir Combes : La Dépêche du Midi. Photo Stanislas Dombrowski, Portrait de J. Ludomir Combes, 1880, inv. 193 P, © Musée des beaux-arts d'Agen, photo Alban Gilbert
---
Théodore Joyeux (1865, Castillonnès - 1938, Paris)
Théodore Joyeux was a hairdresser and opened his salon in 1887 in Castillonnès. At that time, when the bicycle was making its first turns, the young man began to train and participate in races organised in his region. In 1895, 8 years before the first edition of the Tour de France, he decided to ride the Grande Boucle solo. He set records for distances covered over 6 and 12 hours. A Parisian bicycle brand, Cycles Métropole, decided to sponsor him: Théodore Joyeux and his endurance became a superb means of promotion for the brand! In 1896, he set a new record by riding from Calais to Marseille in 63 hours, before tackling the Paris-Amsterdam race a few months later. He ended his sporting career at the age of 40 to take up the scissors of a hairdresser, then the management of a cinema.
Another cycling champion lives here today: Pierrick Fedrigo! He has won 4 stages of the Tour de France and several championships.
Théodore Joyeux : La Dépêche du Midi et Ouest France. Photo ©Histochronum
---
Roger Bissière (1886, Villeréal - 1964, Boissièrette)
A "painter-peasant": such was Roger Bissière, the eldest of a generation of artists revealed too late after the Matisse and Picasso revolutions. He is considered a pioneer of non-figurative painting, called the New School of Paris. This marked the post-war period, despite the expansionism of the American art market. He created the stained glass windows of Metz Cathedral in 1958 and participated in numerous group and solo exhibitions at the Grand Palais and the International Exhibition of Arts and Techniques in Paris, receiving the Grand Prix National des Arts.
Roger Bissière : Mémoire de Villeréal, de Jean-Paul Epinette, édité par la Mairie de Villeréal, 2019. Photo ©Par Christ-schmitt — Travail personnel, CC BY-SA 4.0
---
Paul Duffau (1898, Villeneuve-sur-Lot - 1982, Monflanquin)
Paul Duffau made his name in Paris in the 1920s as a fashion designer, painter, caricaturist and humorous illustrator. During the Second World War, he returned to the south-west and settled in Monflanquin, where he transformed the barn into a studio. He still exhibited in Paris during the Occupation and in 1942, Max Favalelli, a French journalist, said of him: "there is no illustrator more charming and who knew how to translate the chic of these Parisian women, as supple as lianas". After the war, he continued to create in Monflanquin until his death in 1982.
Paul Dufau : René Édouard-Joseph, Dictionnaire biographique des artistes contemporains, tome 1, A-E, Art & Édition, 1930, p.433. Photo ©GEM
---
Louis Couffignal (1902, Monflanquin - 1966, Paris)
In the 1930s, Louis Couffignal became interested in the use of binary numbers in calculating machines, and then in cybernetics: the standardisation of information mechanisms in complex systems, i.e. the first computers. He also carried out research on the analogies between the functioning of the human nervous system and that of machines. From 1938 to 1960, he directed the mechanical calculation laboratory of the Blaise Pascal Institute. From 1942, his team's objective was to build the first French computer, with the support of the Centre National de Recherche Scientifique (CNRS). Unfortunately, this project did not see the light of day due to the impossibility, at the time, of solving the question of the machine's memory without altering its arithmetic intelligence. On the other hand, Louis Couffignal was at the origin of the first Brevets de Technicien Supérieur (BTS) in France.
Louis Couffignal : Histoire de la machine, Cahiers du CNRS. Photo ©Lycée Leygues – Couffignal
---
Catherine Alcover (1946, Paris)
Catherine Alcover is the granddaughter of Pierre Alcover, a French actor, and Gabrielle Colonna-Romano, a student of Sarah Bernhardt and a member of the Comédie-Française. A director and actress, she studied at the Conservatoire National Supérieur d'Art Dramatique and has acted in over 80 films for cinema and television. In the theatre, she has played opposite some of the greatest actors, including Michel Serrault and Michel Galabru! Catherine Alcover created The Lady of Bayreuth at the Petit Théâtre de Paris in 1988. She is also the founder of the Piquemil theatre in Monflanquin where shows are organised every summer.
Catherine Alcover et photo ©Agence Derrieux
---
Lucie Jarrige (1990, Monflanquin)
Lucie Jarrige is a chemist at the CNRS and a French climber in the AL2 disabled category. At the age of 15, cancer permanently deprived her of her left leg, but this did not prevent her from swimming competitively. Professionally, she was interested in pharmacy, then chemistry. She started climbing and participated in her first world championship only 3 years after discovering this sport. In 2017, she was awarded the L'Oréal-UNESCO For Women in Science scholarship for her thesis work.
Since 2020, she has been working at the École Nationale Supérieure de Chimie de Rennes (ENSCR). For the fourth time, she won the gold medal at the World Handicap Climbing Championships in Moscow in September 2021.
Lucie Jarrige : Actualités du CNRS, photo ©Lucie Jarrige